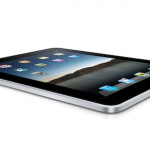 I was lurking on Android based tablets and I've found a 50% bargain on an iPad, so I've bought an iPad (16Gb / Wifi).
I am really impressed by the device so far, it is really fast, its battery last for hours. It still have the bad things of iOS < 4, no multitasking is really bugging me...
Post updated ! I will update this post as soon as iOS 4.x will be released...
iOS 4.2.1 has arrived for a few weeks now. iPad is still an awesome device for me, multitasking bring the ability to play for music streamed via DLNA while surfing the web with Safari mobile. The only things I really regret is the unability to play Flash content (nowadays there is still a lot of website using it, and as a couch internet device we tend to browse those...).